The Month That Was-January 2017
MARKET SUMMARY: Inaugural Thoughts
As we welcomed in the New Year, we were also greeted in January with a New President and a generally positive month out of the markets. Markets started the year with a continuation of the Republican administration pro-growth policy optimism, and we continued to climb as we broke through the mystical DOW 20k level. However, towards the end of the month, concerns of potential protectionist governmental actions halted the rally and markets consolidated gains. But all in all, a solid month for the markets.
We've observed a lot of obsessive behavior recently. In particular, if pundits are not obsessing about Trump's new policies and their effect on the economy, it is Dow 20,000 (which has thankfully been reached in January) that has occupied an inordinate amount of air space. We say all of this without judgment, as we've certainly thought about these very topics more often than we'd like to admit.
Moving forward, we believe that markets will trade based upon what we call a "fundamentals plus" mentality. That is, markets move on the fundamentals but also on Trump policy speculation.
On the fundamental side of things, we see data continuing to come in steady, not only in the US but in global economies as well. While we believe that economic fundamentals will continue to serve as the basis for long term market growth (as it has for the past few years), short term movements in the markets will continue to be attributed to the plus side of things.
When it comes to the plus, we believe that markets will continually be weighing the potential "pro-growth" policies versus possible "protectionist" actions. The pro-growth policies, or the "Trump Trilogy"1, as we have dubbed them, of Tax Cuts, Deregulation, and Fiscal Stimulus have taken center stage and offer a solid basis for economic optimism going forward. On the potentially negative side for markets, strong protectionist policies provide a reason for pause/concern.
1 We discussed each of the pillars in the Trump Trilogy in a bit more detail in series of commentaries within our "End of Day" emails. As always, if you wish to be included on our daily distribution list, or would like any particular commentaries, please reach out and let us know.
CLOSED-END FUND (CEF) COMMENTARY: January Effect Leads to General Narrowings
As we alluded to in last month's commentary, Januarys are typically nice months for CEFs. In general, excessive selling pressures in December (primarily due to tax-loss selling) lead to a short-term widening of CEF discounts. As these pressures dissipate with the turn of the calendar year, CEFs tend to narrow in January, creating additional returns to CEFs, a phenomenon known as the January Effect. In January 2017, this event occurred in line with expectations and, coupled with nice NAV gains in both equity and bond funds, CEFs had a rather solid month.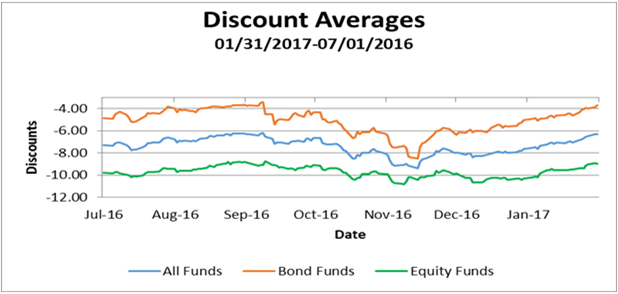 On the equity fund side of things, funds faced some additional selling pressures towards the end of 2016. In addition to tax-loss selling, equity funds also faced a late December bout of selling pressure due to forced rebalancing efforts. But, these temporal pressures were alleviated in January, and accordingly, equity funds narrowed on average over 1.25% for the month. Further, as discussed above, equity funds also experienced NAV growth. The combination of these two factors resulted in strong performance for these funds.
Bond funds also experienced selling pressures in December, as they were sold off a bit aggressively as a post-Trump election rally coincided with a spike in the ten year note up to 2.4%. As shown in both the graph above and table below, bond funds also benefitted from the January Effect as these funds likewise narrowed over 1.25%. Additionally, as interest rates paused at these higher levels, bond fund NAVs were able to methodically tick higher. As with equity funds, the combination of narrowing discounts and positive NAV growth led to a solid month.