The Month That Was - July 2015
MARKET SUMMARY: Markets Remain Choppy and Range Bound
July began with the most widely watched index, the S&P 500, essentially unchanged for 2015. After a brief rally to begin the month, fears over Greece and a Chinese Stock Market Meltdown quickly emerged. This, in turn, stoked fears of a global slowdown, from which the U.S. certainly would not be immune. After a brief dip lower, markets quickly recovered, bringing us close to the highest levels of 2015. As markets climbed, however, the number of stocks participating in the rally decreased significantly with each passing day. Various sectors, most notably commodities, experienced bouts of heavy selling during the same period. One trader aptly referred to the market as the "haves and have-nots".
Toward the end of the month, relentless selling in oil and other commodities had a disruptive effect on other markets, such as certain bond groups, as well as emerging markets. The fear of an imminent rate hike by the Fed and of generally higher interest rates going forward added to the pressures across all fixed income products. At month's end, fears of a China Market Crash resurfaced, and again, U.S. markets dipped briefly and then recovered.
CLOSED-END FUND (CEF) COMMENTARY: Continued Discount Widening in CEFS Further Depress Prices
In June, we witnessed the continued malaise surrounding Closed-End Funds (CEFs). Bonds continued their widening trajectory, which began in May of this year, widening out another three quarters of a percent on top of the nearly two percent of previous widening. Notably, equity funds also began to succumb to similar selling pressures as these funds also widened about a percent across the board. (See graph below).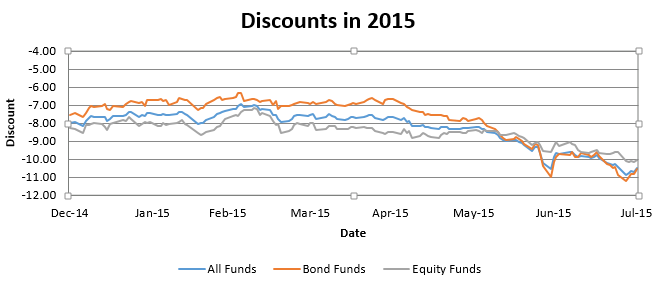 The net effect of these widenings was to depress the market value of CEFs across the board. It is for this reason that we call periods such as this "headwinds", and while we try to achieve gains both through NAV appreciation and our discount capture strategies, the steady widening will lower our returns.
What is most striking about this generic widening is the lack of an identifiable and specific catalyst. Discount widenings generally occur when there is an increased (or artificially heavy) level of selling pressures. It is only in these circumstances that one would expect market participants to sell out of positions at depressed levels. At SFS, we believe that across the board widenings are typically caused by one of three factors: 1) fear based excessive selling, 2) a negative sentiment change in a specific sector or 3) forced liquidations.
In regards to the widenings in July, we do not believe that either of the first two rationales applies. Although certain global concerns presented themselves, the general market moves were muted as opposed to previous global and EU panics. Further, the across the board nature of the widenings deflects any concerns that sentiment in a specific sector was the cause. In this light, we believe that these widengs are most likely attributable to forced liquidations which have stemmed from the rapid fall in valuations of most commodities, including oil.
What can we expect moving into the end of the year? As CEFs have not been at average discount levels this wide since 2009, we believe that the most likely course of discounts is to stabilize near current levels and then to narrow over the short to mid-term. This would produce a "tailwind" to CEFs and lead to increased returns. In this regard, we have spent the past months rotating our portfolio into those funds that we believe will benefit the most from the stabilization and eventual recovery of CEF discounts in general.