The Month That Was-March 2017
MARKET SUMMARY: March Flatness
After posting an impressively solid performance during the first two months of 2017, markets took a breather in March, with the S&P 500 closing essentially unchanged for the month. After tacking on 1.4% on the first day of trading, investors' enthusiasm waned as President Trump and the Republicans were unable to successfully repeal Obamacare. This led many to question Trump's ability to effectively follow through on what we have dubbed "The Trump Trilogy". The President's ability to implement various pro-business policies is something that has been debated ad nauseum since his taking office. However, the fact remains that we won't really have more insight until at least the end of this year. Stay tuned!
While U.S. markets paused as investors sought more clarity on possible policy outcomes, it was international markets, including Europe and Asia that carried the torch and posted strong results for March. This global economic strength is most welcome as we pause domestically to digest strong gains since November. Domestically, economic data in the US continued to support an expansionary economy. Ultimately, we believe that it will be an understanding of the fundamental economic underpinnings which will support both international and U.S. market directionality.
CLOSED-END FUND (CEF) COMMENTARY: Equity and Bonds Funds Take Differing Pathways Through March

Over time, we have found that if equity or bond CEFs make a widening or narrowing move, they typically do so in tandem. However, from time to time, bond and equity discounts will diverge. March was such a time, as each sector responded differently to the Federal Reserve's rate rise and somewhat hawkish statements relating to the future path of interest rates.

We will start with Bond CEFs March performance. As we have discussed in prior reports, CEFs will occasionally experience a generic widening across the board due to selling pressures. Usually these widenings are caused by fear based selling periods and/or forced liquidation pressures. In March, bond CEFs experienced such a period, although this time it was caused by speculative selling pressures.

As a quick backdrop, most generic widening cycles are temporal and are comprised of three basic steps. First, excessive selling pressures appear in a given sector of CEFs which causes funds to post declines and creates a general widening of discounts across that sector. Second, selling pressures dissipate and discounts stabilize. Third, buying pressures increase as opportunistic investors take advantage of the depressed levels and discounts recover and narrow back.

As for March, the generic widening, along with its timing, centered around the Federal Reserve rate decision on March 15, 2017. Although we have consistently stated our belief that the bond markets have already built in future rate rises, speculators continue to move markets around (apparently even when these events are well advertised ahead of time, as was the case this time). Looking at the graph below, we can see the timing of the steps discussed above.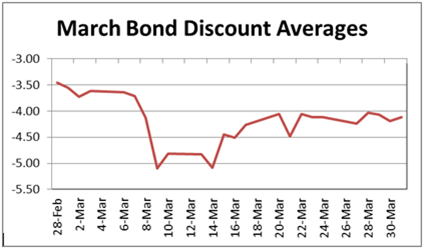 About a week before the Fed decision, from March 6 to March 9, speculators attempting to get ahead of the Fed decision created excessive selling pressures on bond CEFs and discounts widened about one and a half discount points. At this point, discounts stabilized, as investors awaited the actual decision and the markets' reaction. Once the decision was released with the expected .25% rise in fed fund rates, there was a muted response by the bond markets. Buying pressure quickly resumed. With this reemergence of buying pressures, bond CEFs recovered and narrowed back to finish the month only slightly wider than where they began.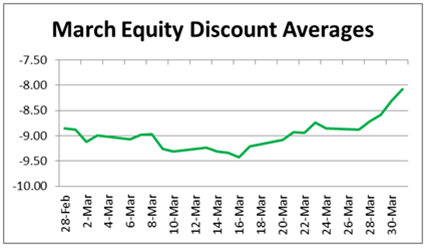 On the equity side of things, equity CEFS had a steadier month with respect to both discounts and NAVs. As shown in the table at the top of this section, equity CEFs posted moderate NAV gains despite the general flatness of markets. In regards to discounts, equity CEFs seemed to benefit from the bond speculation and collectively narrowed throughout the month.